Tuscaloosa,AL
Alabama came into both games looking pretty good against subpar competition, especially the first game. As a side note, to keep things interesting, the NCAA had Marcel Dareus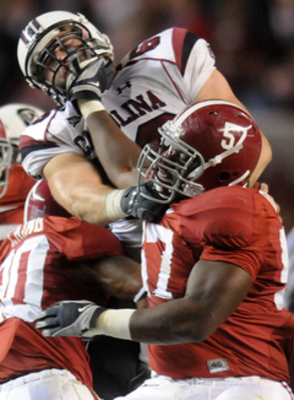 suspended until the Duke game for ALLEGEDLY taking improper benefits from an agent or a friend of an agent.
Lucky for the first two teams, they will not have to face this beast. As a side bonus, Mark Ingram went ahead and had his knee scoped after somewhat injuring it in practice, to clean it up and to make it stronger instead of waiting and having it tear completely.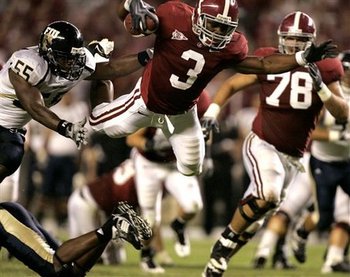 So our backup,Trent Richardson has been shouldering the load.....shouldering is an inside joke since supposedly he was banged up also. Our 3rd string running back is Eddie Lacey, who is basically a hybrid of Mark and Trent. I call them the "Smash Bro's" since they seem to smash into defenders instead of avoiding contact. If you have ever faced a physical back who seems to get stronger as the game goes on, you know how tough it is to stay energetic for the whole game while you are trying to tackle a punishing runner. Except instead of him getting wore down and you getting wore down, they replace him with someone who is a lil faster and alot stronger. You still stay in the game and have to tackle him now, usually at the tail end of a brutal drive. It makes it that much harder for you to perform and bring your "A" game while you are physically and mentally drained. I think that is what Nick Saban will do to control the clock and tempo of the game when he faces some of the explosive offenses on in the meat of the schedule.
(ht:Gump4Heisman)
We faced an overmatched SJSU from California, and it wasn't even close...
All of our backups got playing time, and AJ to Julio was a sight to behold:
One handed-grab while reaching for the goal...here's to Julio getting at least 1000 yrds and 12 TD's this year....and hopefully a top spot in the draft...he is also one hell of a downfield blocker, which separates him from other WR's in the SEC.
Week 2:
Joe Pa and Penn St paid Nick Saban a visit. This is more than likely Joe Pa's last time in Bryant-Denny, and many think this will be his last year as a Head Coach. He is one of, if not, the last figureheads of a major NCAA football program. Bobby Bowden was
fired
retired last year and he and Joe Pa had a lil competition to finish with the most victories. As it turns out, Penn St. was breaking in a new freshman QB and had to be fed to the wolves slowly. Many think that CNS didn't turn up the heat enough out of respect for Coach Paterno. I tend to think that way. We were gaining 7 yrds+ a carry on offense, and hardly blitzing on defense. I think had it been any other team or coach, we blow em off the field in a big way.
This picture is put here for no particular reason, just because...
QUOTES FROM THE GAME:
"I thought (Alabama) had a very good football team," Paterno said. "They outcoached us; they outplayed us and kicked the crap out of us. Anything else you want to know?"